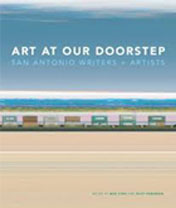 Art at Our Doorstep: San Antonio Writers and Artists
Trinity University Press | March 28, 2008
Art at Our Doorstep: San Antonio Writers and Artists pays tribute to the city's vibrant creative community. A gathering of literary and visual art, the book features poetry, fiction, and nonfiction from the city's writers, as well as images of painting, sculpture, photography, and installations from the city's artists. All gathered here are closely associated with the city or have been in years past, and together they represent San Antonio's inimitable local culture with style, intelligence, and affection.
Collected in one place for the first time, the works of San Antonio's writers and artists are interspersed, resulting in a book of unusual appeal. Ranging from the abstract to the highly narrative, from the surreal to the hyper real, and from the everyday to the sublime, the art is arresting and the texts equally powerful. This elegant anthology features National Endowment for the Arts fellows, National Book Award finalists, Fulbright fellows, Artpace San Antonio artists-in-residence, best-selling authors, and critically acclaimed artists.
An engaging combination of literary and artistic excellence, and a brilliant testimony to the variety and energy of the city's creative life, Art at Our Doorstep celebrates in words and images the city of San Antonio and its creative spirit.
---
Literature can deal more effectively with the ambiguities, contradictions, complexities and nuance of real life than ordinary theology; the parables of Jesus are one example. Art at Our Doorstep is a great leap forward for San Antonio, if we want to develop economically with a creative economy as well as with a culture that has depth.
—Claude Stanush
"This city shines by its dramatic history, its blend of nationalities past and present, and its cultivation of the several arts. Living here one enjoys the tradition and the novelties it so readily absorbs."
—Jacques Barzun
"I could never leave it–not in that place of the heart where home truly is. I have been a New Yorker since Nixon was president and have seen my daughter graduate from city schools. New York is where I live. But I don't have to believe it if I don't want to."
—Marie Brenner
"This has always been the most beautiful city of my life. I think of it as a special place, where flowers are always in bloom and people are always in smile."
—Jim Lehrer
"I think Jack Kerouac was correct when he described San Antonio as having 'the softest air [he'd] ever known.' There's something tender and haunting in our sweet local atmosphere, and I feel lucky and grateful to have lived her for most of my life."
—Naomi Shihab Nye
---
"Hailed as a much-needed cultural encyclopedia for San Antonio."
READ FULL REVIEW.
—San Antonio Current
"San Antonio can boast it is or has been the home to both internationally renowned and emerging authors and artists of immense and varied talent."
READ FULL REVIEW.
—UTSA Today
---